This year I've been trying to choose a saint a month for the kids to learn about.
January was St. John Bosco
excerpts from Dominic's saint book
February was the 3 children of Fatima
March was St. Joseph coloring by Joanna
I am so excited about the saint I have chosen for April! St. John Paul the Great. Yes, you heard right! This Sunday, April 27, Pope Francis will canonize his predecessor, Pope John Paul II.
Sunday also happens to be Divine Mercy Sunday, a day that PJPII "established" in 2000, died on it's vigil in 2005, and was beatified on this day in 2011.
http://saintsresource.com/john-paul-ii-pope/
Here are s
ome activities I plan on doing with my 2 older kids to learn about this soon to be saint and His relation with Jesus:
talking about forgiveness

since my kids like dressing up and I got a super good deal on this felt at a garage sale today (I know, I know-Divine Providence!) we will make this

zuccetcho

(pope's hat)

coloring the Luminous Mysteries and talking about how the rosary and Mary lead the way to Jesus

update 4/27-my children had fun coloring the Pope on

this page

making it a 3:00 habit to recite the Divine Mercy message given to St. Faustina from Jesus: "Jesus, I trust in you, have mercy on us and on the whole world."

I'm sure they will also thoroughly enjoy a homemade Divine Mercy Sundae!
I look forward to reading or rereading various works written by this saint as well as new books that have come out recently about him. I'd love to hear your recommendations!
For those of you wondering why we put so much emphasis on saints, I'd like to compare this to remembering a loved one (whether one who has died or is still alive). Who wouldn't want to share the story a person they respect so much? This might mean commemorating them with pictures, an item they used, enjoyed or gifted you or honoring them by telling stories and sharing memories. So this week I've put pictures and other memorabilia of this man who has brought me closer to Christ to share with my family in a special place of honor.
For you, dear reader, I go on in sharing with you why Pope John Paul II is dear to my heart. Often times, Rome seems so distant. I remember being so impressed when a classmate of mine went to Denver in 1994 to see the Pope. I couldn't believe that he actually came here. I never imagined I'd have a similar opportunity to "meet" the Pope,
but five years later I was able to go to St. Louis when he visited. No words could fully describe the atmosphere of the huge Kiel Center filled with thousands of youth and the celebration of Mass in the Trans World Dome of people all because of one man-one man so close to Christ. I do not remember the words he spoke nor a theme he inspired, but I do know the depth of his silence in prayer. That spoke a thousand words-center your life on Christ. He was so full of the Lord!
Again, I had the chance to be in his presence in 2003 during a short college study/pilgrimage to Rome. Here is my closest and best picture I took while attending a Wednesday Papal Audience.
My two encounters with this man have made Rome not so far away, but at every doorstep in life-every Church, every person, every experience. It was here that the 4 marks of the Church (one, holy, catholic, apostolic) came to light for me. Because it is here that Christ chose to establish His Church deep in history and tradition from the Apostles until now in the men we know as bishops. If each person could have experienced the joy in being with this man, whether meeting him face to face, encountering his deep love for God through his many writings, or being revealed to him from one from the JPII Generation, I truly think this world would be a better place. For me, being in his presence was a little glimpse of being in the presence of God.
When I think of this man,
I admire his great love for life-from conception to natural death and all stages in between. I thank him for his love for family and human love in his gift of Theology of the Body. I desire his great love for Mary, Christ's mother and ours and his gift to us in the Luminous Mysteries of the rosary. I stand in awe for h
is love of God's mercy and forgiveness- considering the era he lived and served a midst and the wonderful example he gave us in forgiving the those who sought his life. I marvel at his love for the Church-the number of saints he canonized and the precedence he set for us all in so many ways. And most importantly, I want to share his love for Christ-how he lived and died the Gospel.
When looking at some pictures of the Pope, Joanna wanted to know about him. When told that he was in Heaven, she informed me she wanted to go see him. I told her I did too. Let us recall some of the very first words he spoke as Pope:
"Be not afraid, open wide the doors for Christ."
If we "arrange our life so that everything praises God", as he once said, then we, too, will be able to share the joy of Heaven.
And as my son said as he looked at a framed photograph I have
of him while he is deep in prayer, "He looks so happy!"
******************************************************************************************
By no means do I want to leave out another wonderful man who will also be canonized this Sunday-Pope John XXIII. Here is a photo I took while in Rome. His body had been recently exhumed in preparation for the process of to see if he should be indeed canonized. As you can see, he is incorrupt. To me, that speaks wonders of God's will. God is good!
Have a blessed and holy Divine Mercy Sunday!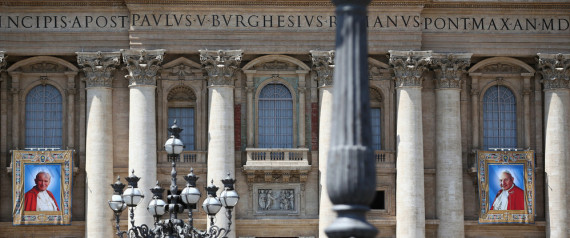 http://www.huffingtonpost.com/2014/04/25/double-canonization-popes_n_5212103.html